I'm challenging myself to fundraise for Greenpeace #BECAUSE.....
Over 7 days, July 25-31, 2022, I will be hiking 53 km of the Lake Superior Costal Trail. Ontario Parks rates this trail as "Very Demanding."
I commit to this physical and mental challenge for the privilege of becoming intimate with this powerful, untamable, wild and beautiful place. 
I commit for my grandchild, and all the children. 
I commit for the trees and the water and the soil and the air. 
I commit for all our non-human companions - the animals, birds, fish, and insects.
I really hope you'll support me by donating to my #BECAUSE fundraiser for Greenpeace. I'm doing this because Greenpeace is making a real difference by acting on climate change, working to save our oceans, forests and other vital ecosystems and encouraging sustainable consumption and production.
This challenge is definitely a Bucket List item for me, and it would just be so special for me to be able to raise some money for the planet while I was at it. So please help me reach my fundraising goal by making a donation now. Every gift counts and together, we will have an incredible impact.
My Achievements

Personalized my page

Made a self-donation

Shared my profile page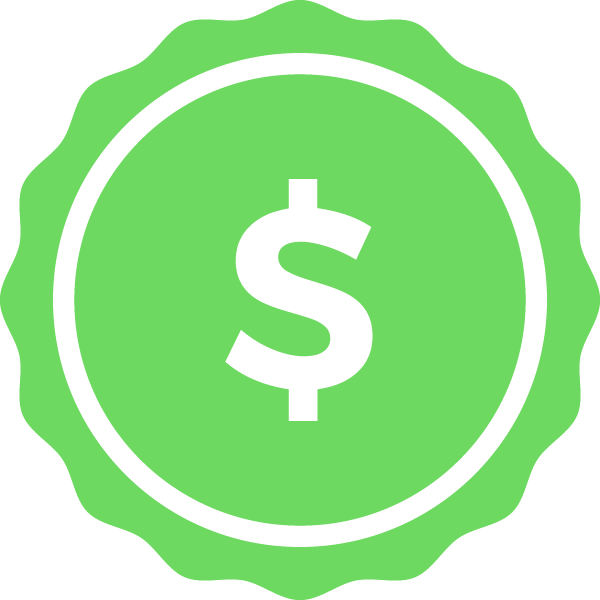 Received my first donation

Increased my fundraising goal
Reached 25% of my fundraising goal

Reached 50% of my fundraising goal

Reached 75% of my fundraising goal

Reached my fundraising goal

Thanked my donors
My Updates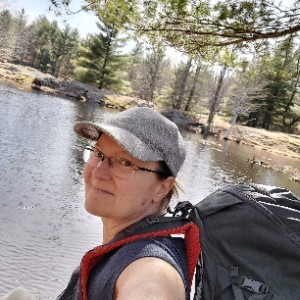 The Secrets Of Ultralight Backpacking: The Eats
Monday 4th Jul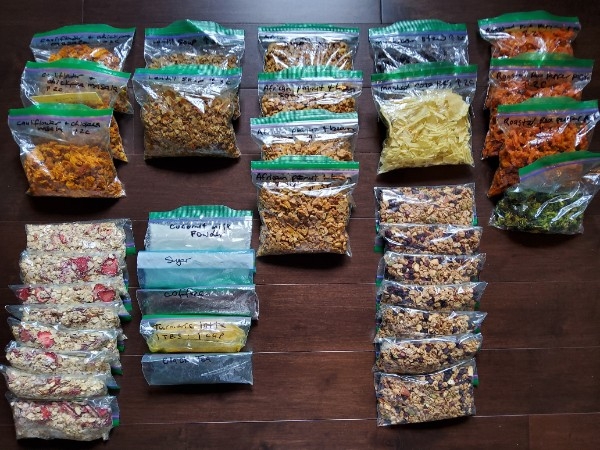 A funny camping story:
My first backcountry camping experience happened in the spring of 2017. My brother, who had some experience where I had none, led us into Frontenac Provincial Park for a two night trip. I have no idea what our pack weight was, but it was way too much. Too many clothes, two days worth of real groceries, beer, and, the piece de resistance, two bagged folding chairs. We were only hiking 5 km, but by the time we arrived at our site, we were pretty miserable. We set up our chairs, opened a couple of beers, and sat looking out over Doe Lake. For two hours. 
Two days later, we made the return trip, somewhat lighter having eaten the food and drank the beer. When we arrived back at the parking lot, we dropped our packs and sat on the tailgate of the vehicle for water and a snack. A man, accompanied by a couple of very well-behaved dogs, walked past. The man was carrying what appeared to be little more than a half-filled school backpack, and the dogs were each outfitted with little saddlebags. My brother, glancing at our two large, overstuffed backpacks, asked the man how many nights he was going in for. The man said five. Five nights. The dogs were carrying their own food.
At that point, I was not schooled in the finer points of ultralight backpacking. It was still trying to achieve a car camping experience out of a backpack. But the rule of ultralight backpacking is comfort without luxury; there are no "maybe" items. Nothing without purpose goes in the bag, and everything gets weighed.
Comfort means enough food and means to clean water. Comfort means one must be warm and dry. Comfort means one must be safe. And, comfort means one must be (somewhat) clean.
The Superior Challenge will be 6 nights and 7 days on the trail, and, between me and my hiking partner, we will be carrying everything we will need for the duration; there are no "refueling stations" along the way.
In my experience, I know I do not want to be carrying any more than about 35 pounds. Ideally, it should be closer to 25 pounds, keeping always in mind that the less you have to carry, the more enjoyment you get out of the hike itself, which, really, is the whole point. But, for this trip, I need to be carrying at least 10.5 pounds of dehydrated food (1.5 pounds per person per day is recommended). Carrying dehydrated food is necessary to ultralight camping (as is, unfortunatley, ditching the beer and the lawnchairs).
There are lots of companies making dehydrated food for camping or for emergency preparedness these days, some better than others, but none that yummy, sadly. I am rather fussy about food; I want food to be relatively healthy, be seasoned the way I like, and be delicious. So, I make my own dehydrated camping food, which is the part of the trip planning that really takes the most time and effort. Food prep started a month ago. The added challenge, this time, is that my hiking companion is vegan and gluten free. But, I do love a challenge.
Having some tried-and-true recipes that lend themselves to dehydrating, a good dehydrator, and an understanding of how to rehydrate the food are all you reallly need. So, our meals for The Superior Challenge are:
1. Strawberry and coconut oatmeal (breakfast)
2. Buleberry nut granola (breakfast)
3. Cauliflower and chickpea masala
4. African peanut and bean soup
5. Mushroom stew with mashed potatoes
6. Lentil soup
7. Roasted red pepper pasta with broccoli
There will also be energy bars, flatbread, and trail mix for snacks.
Making my own food also saves weight in packaging when compared to commercial preparations. Each meal is packed in a small zip-top bag. As we have to carry out all we carry in, the sum total of our trash will be a bunch of zip-top bags stuffed into a larger zip-top bag. And, to save plastic garbage from landfill, I wash and reuse the bags at home, so it will be truly a trashless week on the trail, in which I take no small amount of pride. We shall leave only footprints in that sacred place.
What makes up the rest of the 35 pounds in that backpack, you ask? Keep an eye out for the next post. And, if you are enjoying these posts, please consider making a donation to my fundraiser. Thank you!
Share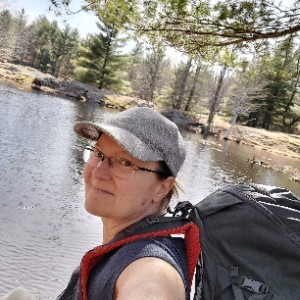 The Road To The Coastal Trail
Friday 1st Jul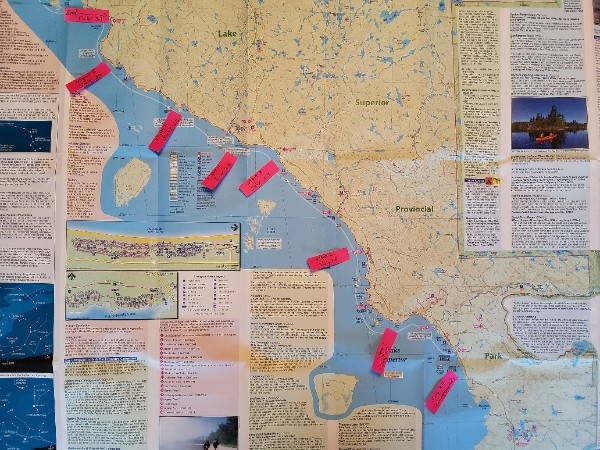 The dream of this trip has been on a slow simmer for more than a year. I was online browsing for a new hiking adventure in early 2021 when I came across a very photo-heavy blog post by a guy who had hiked the Lake Superior Coastal Trail. Photo after photo of breathtaking, rugged beauty.
In my life, the most influential moments in the natural world have come when I was left feeling small. Insignificant, even. Maybe you've had them. Those moments when you stand at the edge of the ocean, I am thinking specifically of Newfoundland or Nova Scotia, where it looks and feels like the edge of the Earth. Those momets in the mountains, I am thinking of the Rockies, specifically, where you are reminded you are but a speck, and your laundry list of human, and also very "first-world" issues, are really quite, well, insignificant.
One might ask what is so attractive about feeling insignificant. And the answer is that it is freeing. Like dissolving a stain on a favourite item of clothing, all the thinking and concerns that cause stress and anxiety on the fabric of your mind simply dissolve in the moment. You get a chance to see yourself in the context of the whole, rather than as the centre, and it is very freeing. The photos in that blog showed me this was a place of such magnitude. 
One of my Spirit Children, the one called Adventure, up and left for Lake Superior that day, leaving the rest of me to sort out the details of how to get there.
There were a number of obstacles. First of all, from where I live, it's a pretty hefty time committment; the drive is 10 hours, 1,036 km. And, it is recommended to hike the LSCT over 5-7 days. I wanted to opt for 7 just to give myself lots of time to soak up the experience. So, I needed 10 days. This would not have been complicated if my spouse was my obvious travel companion. Alas, this sort of experience is much more my thing than his, and involving someone who doesn't love it is just not reasonable. He would have done it, but was grateful to be let off the hook.
So then, assuming that I should not attempt this on my own (although I did consider it), who are my candidates? Who would want to take nearly two weeks of their vacation time, away from their own family, to come participate in this craziness? This stumped me for a while. 
Ultimately, my ideal candidate emerged. A woman I met on Zoom in the spring of 2021 during my 200-hour yoga teacher training. We got to know each other from May to December during the online training and then continued to meet virtually as friends after yoga school wrapped up. Her name is Shannon, and she is single and very fit and was as in love with the idea as I. We spent a weekend together planning and getting used to each other's actual vs virtual presence, and we are both getting very excited as the date of departure draws closer.
The adventure begins the morning of Saturday, July 23, and I will pick up Shannon as I pass through Toronto on my way to Highway 400, where we shall head north. I have a cousin (also a dear friend) who cottages all summer near Perry Sound, and we shall break up our drive a little by spending the night there. The morning of Sunday, July 24, we will begin the remaining leg of the trip, 6.5 hours, to the Agawa Bay campground, where we shall spend the night. Our campsite nestles in a mature pine forest and fronts on a fine sand beach. Here we shall have our last meal that is not dehydrated, a last hot shower, and a browse through the visitor centre to get our bearings. We shall hit the trail Monday morning for the first leg of our hike.
I am coming, Spirit Child, Adventure! Wait for me!
Share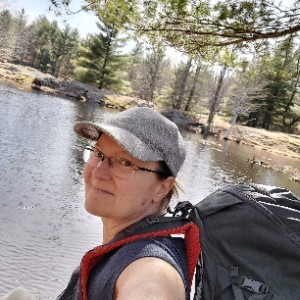 When Camping Became A Good Idea
Wednesday 29th Jun
I admit that, until the summer of 2016, I really didn't understand the attraction of camping. Pack up the car and go sleep on the ground in, arguably, a city of noisy strangers, where everything, from cooking to showering, was 10 times more difficult than at home.
Then, early summer 2016, I was diagnosed with stage 3 breast cancer. This is not an article about cancer, I promise. But, a really interesting thing happens in such circumstances; suddenly priorities  clarify. My immediate instinct was to go into nature, and I began solo trail hiking. And as I soaked up the healing influence of forests and lakes and ancient stone, I came face to face with the need to go further in than I could go and still get back out in the same day. So. Camping.
In the fall of 2016, I was in the middle of a pretty brutal regimen of chemotherapy, and on my Christmas wish list were camping supplies. I know there were family members who believed I was losing my mind. 
But, I can't describe how strong was the draw; to sit in the woods, meditate on the sounds, the sensations, to feel the shimmering life force of which I am a part. It was, it is, transcendent. 
I will be 52 this year, and to hike the Lake Superior Coastal Trail is a Bucket List item for me. I have not been to this area of Ontario before, and I become weak in the knees imagining the magnificence of hiking this trail. It will be challenging.  Probably grueling at times. But, for the privilege of experiencing the magnificence,  I am ready. And I am hopeful that I emerge ready for the next challenge.
Being in forests, next to lakes, among wildlife, as an integral part, not as a conqueror, is healing. It is necessary.  It is so much more important than we realize. 
Our continuing demands for products and convenience means that the days of wild nature are numbered and I am heatbroken at our blindness as a society. I don't want to imagine a world without wild, beautiful nature, which is why I give to Greenpeace and am taking the opportunity to use this endeavor as a fundraiser for Greenpeace.
I will be hiking 53 km, camping 6 nights on the trail, July 25-31, 2022. (I will not be doing this one solo, for safety sake, I will be hiking with a friend.) I hope you will donate on my behalf. Thank you!
Share
Thank you to my donors Andrew Andrawis Lee Ann Flake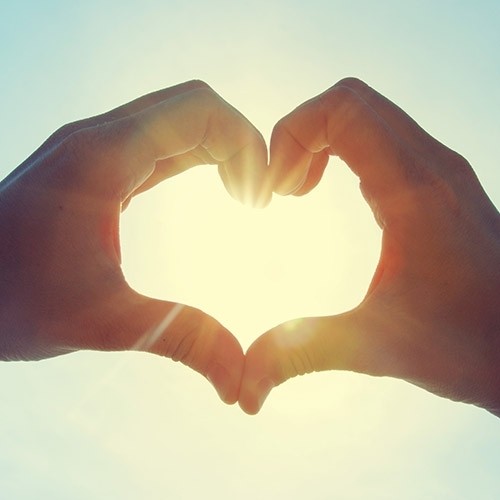 Geoffrey Johnson Sidney Devries Marion Schoeman Marion De Vries